I am an Exchange Student
If you're an exchange student from anywhere in the world that is interested in coming to UDD or you already applied to come and you're excited about knowing more about Chile, meeting students at UDD, or have questions about the culture and things to do, we're here for you!
We're a team of Chilean students at UDD who are volunteering to help make your stay nicer and to ensure that you feel welcome in Chile.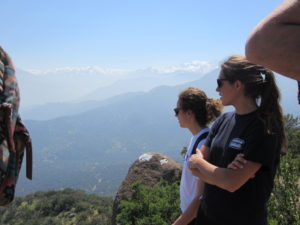 Our country is very special: we're separated by the Andes Mountains from the rest of our neighbours, and we have the vast Pacific sea that separates us from the rest of the world. This is why our culture is very rich and different from what you might have seen in some other countries, so we want you the learn and share the most about your experience getting to know this little long piece of land in the middle of nowhere.
In the following menu you'll be able to find out more about our Program in Spanish and English, so keep reading on "About the Program".
Don't forget to follow us on social media!
Like us on Facebook!
Follow us on Instagram!