About the Program
WHO ARE WE?
The Global Ambassadors Program was created by the International Relations Office (DRI) to make the stay of international students at UDD more pleasant, by sharing with you, getting to know you and support you in every moment. 
How do we do it?
By having a team of UDD students from different careers who give support and help you during your stay.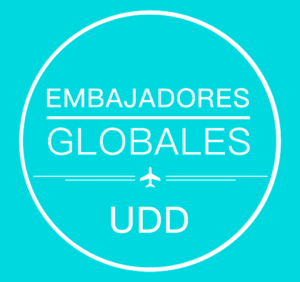 WHAT DO WE DO?
As a team, we care about being the meeting point between our University and you, an exchange student at UDD. Our main goal is for you to feel comfortable at UDD and get help whenever you need it. We also want to create instances for you to share with other students and keep you updated on different events and things to do in Santiago.
A Global Ambassador is…
Understanding

Empathetic

An advisor

Here to help you
Remember to follow us on Instagram and like us on Facebook, to keep you updated.
If you want to get help from a Chilean student at UDD before arriving, keep reading about our BUDDY Program.